About Figure Eight Task Panel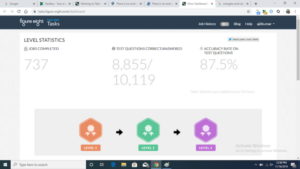 By doing jobs or tasks in figure eight or crowdflower you can earn dollars : Crowdflower Figure Eight task provider panel from San Francisco situated NewYork giant from United States of America able you to earn cents or dollars for their help in auditing or crowd funding jobs to be done by genuine task workers with 80% accuracy for which they pay you your wages for that task.
Figure Eight is a company which is recently owned by Appen which is also a micro task provider for helping humans to earn dollars. I as a task worker in Figure Eight or Crowdflower find this platform to be honest in paying bucks to his workers and observed this thing from past 6 years.
Related Post neobux-golden-membership-offers-2020 click to read https://techniyojan.com/tag/neobux-golden-membership-offers-2020
In this there are levels to be get qualified for tasks access to work on which helps you Earn dollars 
1st is orange badge – needs 70% accuracy while completing the tasks
2nd is green badge –  needs 80% accuracy to be accessible for completing more tasks of higher pay even
3rd is purple badge – needs 85% accuracy to be accessible for completing more tasks of higher pay even than of level 2.
Here are my statistics by earning three badges with purple badge above 85% accuracy after completing more than 10k jobs(10000 plus) by maintaining 87.5% accuracy..which helped me earn more than $700 dollars..
hope you will take this into a genuine consideration and start work for your penny…and for this you can go to neobux platform or ysense platform where these tasks are available to do and earn..
below is the link to register in neobux and under that go to mini jobs menu and sign up in figure eight to start to do tasks for your cents or dollars.. but keep in mind that after 15 days of registration in neobux and figure eight you will be eligible for more tasks with orange badge i.e first level of your job title… then as you work in this platform the more better accuracy level will give you rise in your task availability ..hope you will sign in and get on board into figure eight platform through neobux site.
https://www.neobux.com/?r=apadhi87