Percy harvin mood to return back to NFL again after a long gap of three years of his sports career in NFL since 2016 due to injuries he suffered.
The 32 year old sportsmen, Percy Harvin mood to come back to NFL again still think himself that he have that passion to continue back as a elite player for his league making a statement "I thought I was done, but that itch came back".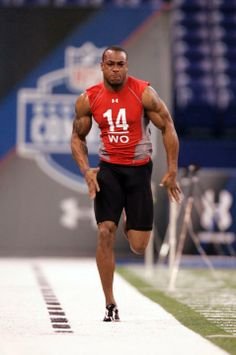 The former "American football wide reciever" told that I've been training with a former Olympian. My body is feeling good. Mentally I'm better. My family is also good. And The timing is right yet" Percy Harvin told on press, retired for a second time in 2016 after playing in two games the previous season with the Buffalo Bills.
Harvin played college football for Florida, on coach Urban Meyer's Florida Gators football team from 2006 to 2008. Harvin had an instant and vivid impact for the Gators as a freshman in 2006, and was a key offensive player during the Gators' national championship season in 2008.
Harvin was selected as fourth wide receiver by the Minnesota Vikings with the 22nd overall pick in the first round of the 2009 NFL Draft.
Harvin helped trigger the Seattle Seahawks' Super Bowl XLVIII win over the Denver Broncos in 2013 with an 87-yard kickoff-return touchdown which led Seattle's lead to 29–0.
Harvin was diagnosed with a slight labrum tear in his hip while training during the offseason. On August 1, 2013, Harvin underwent successful hip surgery. While after Buffalo Bills, he struggled with lingering hip and knee injuries that ultimately led to his retirement in year 2016. 
Percy Harvin mood to come back again to add up his achievements of 4,026 yards receiving, 927 yards rushing, return yards 4127 and 22 total touchdowns in NFL games.
He done his career working with former Olympian Tim Montgomery at NUMA Speed in Gainesville, and calls the 2000 gold medalist sprinter the best trainer he's ever assigned with.
He started running miles a day, got strength and influence back in his legs through squats, then found the hip flexibility that moved him for years.