As this year it has been noted there is a syllabus reduction due to the covid-19 pandemic so it may be difficult to complete even 75% practicals. Hence for the academic year of 2022-23, the following is the "Hsc biology practical exam" paper pattern 2022-23 of class 12.
Scheme of Biology Practical Examination (Hsc Maharashtra Board) – Class 12
Biology practical's are going to conduct for 30 marks for 3 hrs. practical session duration.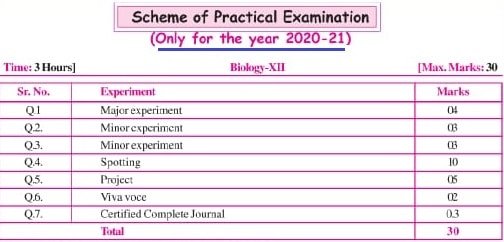 Below is the full bifurcation in the section-wise of the practical question paper pattern of Hsc biology Maharashtra board 2022-23.
As class 12th biology is comprised of botany and Zoology which have their practicals accord to the syllabus.
HSC Biology Board Practical Exams Paper Pattern for 2022-23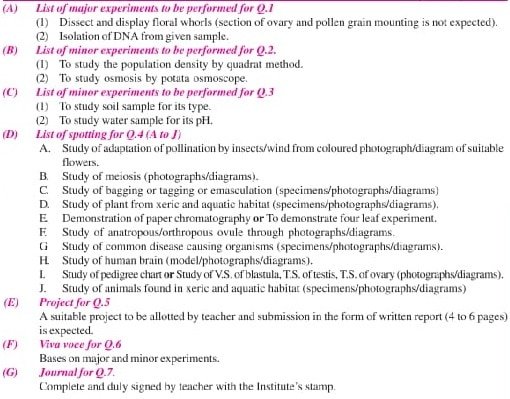 In practicals, you have to submit your complete certified journals as it is considered an entry to your practical lab and prepare for viva-voce i.e oral.
you have to perform spotting experiments by maintaining the social distancing as per the govt. rules including ther major and minor experiments asked in your biology practical examination.
Above "Hsc biology practical exam paper pattern 2022" could help you students to get an idea about your practical board exams that soon to be conducted on the start of month of April.
Hsc chapter-wise paper pattern of biology subject maharashtra board Read More
Physics Practical exam paper pattern 2021 Read More
Chemistry subject Viva questions class 12 Read More
Chapter Wise Weightage marks distribution Class 12 HSC Science Maharashtra Board all Subjects click to read
Physics question paper July 2022 Class 12 Maharashtra State Board Read MOre
Maths question paper March 2022 Class 12 Maharashtra State Board Read MOre
Class 12 HSC Chemistry question paper 2022 Maharashtra State Board Read More